Arthur Hull VMC Drum-Circle Facilitation
---
Drum Circle Facilitation Training, based on the Arthur Hull model
2018 dates pending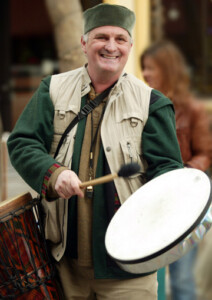 ---
These three-day events will empower you to build a rhythm community while exploring the foundational elements of drum circle facilitation. Learn powerful facilitation techniques and develop skills while gaining the confidence to successfully lead a rhythm event for a variety of diverse populations.
Packed with information and hands-on experience both beginning and experienced Facilitators will have plenty of opportunities for practicing new skills in a safe, supportive environment. Upon completion of this training, you will have the ability to begin facilitating rhythm events of your own!
Program Content
In 20+ hours of training, participants will have extensive practice opportunities in the facilitation techniques and the skills needed to lead a drum circle event for a variety of populations. Group instruction and discussions combine with small group activities using movement, voice, musical instruments, and improvisational rhythm games. Critique and feedback are an important part of the learning process.
Opportunities for networking with other DCFs of many cultures, backgrounds and experience levels provides stimulation and inspiration to developing facilitators.
This workshop is a high-powered, dynamic experience. Participants must commit to the entire weekend and be ready to work hard and learn a lot — while having loads of fun doing so.
Links
Watch Video
Proudly Supported by Remo & Australasian Music Supplies
---
Enquiries
---
Testimonials
---
"Arthur Hull's extraordinary wisdom, captivating style, unsurpassed talent, brilliant sense of humour and uncompromising commitment doesn't even begin to match his unparalleled knack for inspiring leaders and teaching the art of community drum circle facilitation. For a phenomenal training program along with an unforgettable life-changing experience, Arthur Hull, father of the modern day drum circle movement, is your best choice."
BARRY BITTMAN
MD, Neurologist, Researcher, CEO Mind-Body Wellness Center