Resources

The Rhythm2Recovery Resource Book
---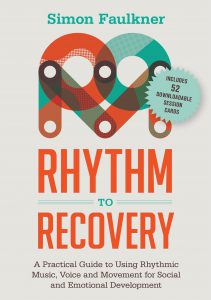 ---
THE SESSION CARDS
52 Individual session cards accompany this book and can be downloaded through a link detailed on page 15. There is also instructions on how to print these and the paper to use etc.
These cards provide a 1hr framework for a themed session and include the specific exercises from the manual that address that topic.
PRE-PRINTED Packs of Cards can be purchased by emailing us at simon@rhythm2recovery.com
These are Aus$15 plus postage
Postage in Australia – $10
Overseas postage rates by enquiry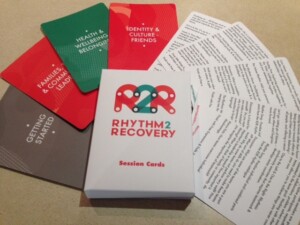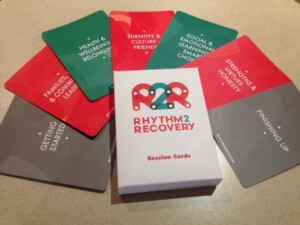 ---
Reviews
'Faulkner gets to the soul of rhythm and its potent use when working with individuals, families, and groups of all ages. This book is a treasure. It's a must-have for anyone working in a therapeutic or educational context.
When words get in the way, tune in to the principles that Rhythm2Recovery offers in this packed filled resource book'.
– Dr. Daryl Chow, MA, Ph.D. (Psych) Counselling Psychologist,
Specialist Psychological Outreach Team (SPOT)@Henry Street Centre.
Senior Associate & Trainer, International Center for Clinical Excellence (ICCE).
'In Rhythm 2 Recovery, Simon has distilled years of successful, evidence-based practice into a comprehensive series of highly accessible rhythmic exercises and reflective starting points that will be a valuable addition to any therapeutic practitioner's toolkit. What's more, he has opened up the field of rhythm work in such a way that no prior musical expertise is needed to be able to use these exercises – making this accessible to therapists, educators and group leaders who may never have considered using rhythm in their work until now. Highly recommended!'
Dr Jane Bentley, Specialist Consultant, Music and Mental Health,UK.