Rhythm2Recovery are a representative of the Village Music Circles, Global Drum-Circle Facilitation Training Method. This work is based on the model developed by the 'father' of the modern drum-circle movement, Arthur Hull.
National Australian training is now being delivered through us, in association with Earthen Rhythms https://www.earthenrhythms.org/
In 2023, Rhythm2Recovery will deliver a three day drum-circle facilitation playshop & one day introductory courses – Dates for the National VMC 3 Day Playshop to be held in Brisbane, at the Briswest Centre, 132 Latrobe Terrace, Paddington, 4064 – 9 – 11 June.
Day 1 – Friday, 9th June – 5pm – 8pm
Day 2 – Saturday, 10th June – 9am – 4pm
Day 3 – Sunday, 11th June – 9am – 4pm – includes free community drum-circle – 2pm – 3.15pm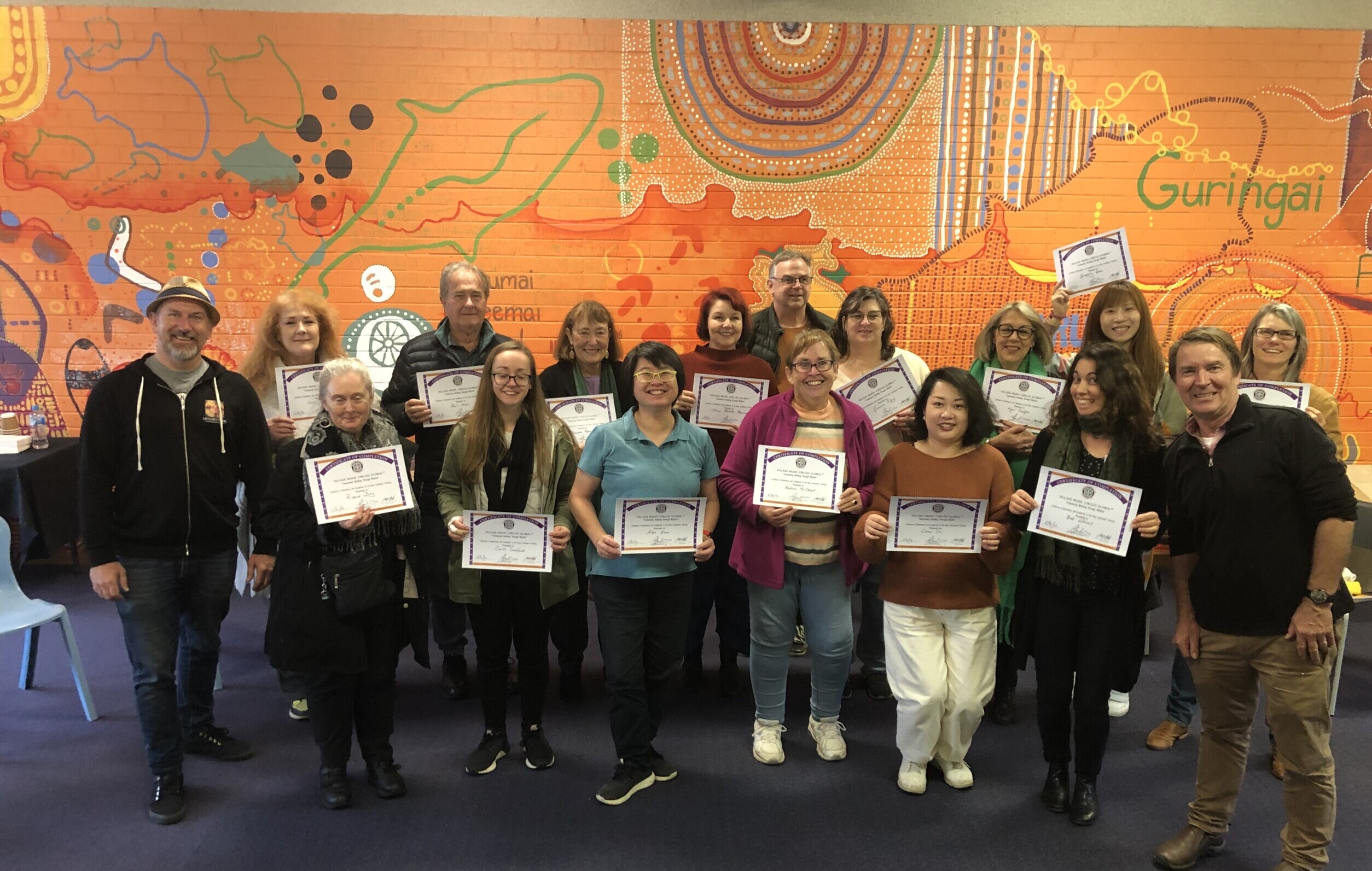 Watch a video about VMC drum circle facilitation.
What is a Community Drum Circle
The VMC Global method is a clearly defined process of facilitating a group of individuals through the joys of participatory rhythmic music, in an inclusive & empowering way that maximises the groups musical potential. It is used by thousands of facilitators across the world in a wide range of settings, that include community recreation programs, school music programs, aged-care wellness programs, mental-health support programs and corporate development programs; to name a few.
Read recent research on the power of community drumming to improve mental health
Three Day VMC Drum Circle Facilitator Training
This is the comprehensive training program, developed by Arthur Hull and taught to facilitators across the world, which provides trainees with both the skills and theory to run drum circle events for a wide range of community groups. It starts on a Friday evening and runs across the weekend offering participants ample time to gain experience in the middle of the circle, moving the group to increasingly sophisticated musicality. It finishes with an open community drum circle on the Sunday afternoon where graduates can practice their skills in a real life situation. Led by highly experienced facilitators, this training is fun, uplifting and highly practical.
One Day VMC Global Drum-Circle Facilitation Introductory Seminars
Rhythm2Recovery run a small number of introductory one-day seminars that provide a taster of the drum-circle facilitator training experience. These workshops do not provide an accredited level of expertise for participants, but aim to showcase the potential of the VMC Global model, in a fun and enjoyable way for individuals and services contemplating investing more seriously in this work as part of their future development.
We welcome enquiries from organisations and conference coordinators who are interested in the potential of the drum-circle to further the social development aims of their work, and are seeking a brief introduction to the process.